Travel and Transportation
Access to Sendai International Center
From overseas to Sendai, Tokyo International Airport (Haneda Airport) (HND) and Narita International Airport (NRT) are convenient to visit.
From International Airports to Sendai station
Take the Narita Express from Narita International Airport to Tokyo Station in 1 hour.
Take the Keikyu Line from Haneda Airport to Shinagawa Station (14 min.) and transfer to the Yamanote Line to Tokyo Station (13 min.).
From Kansai International Airport to Sendai International Airport is 1h40m by airplane. Or from Kansai International Airport to Osaka International Airport is 1h30m by conventional line, and from Osaka International Airport to Sendai International Airport is 1h20m by airplane. Take the Sendai Airport Access Line from Sendai International Airport to Sendai Station in 25min.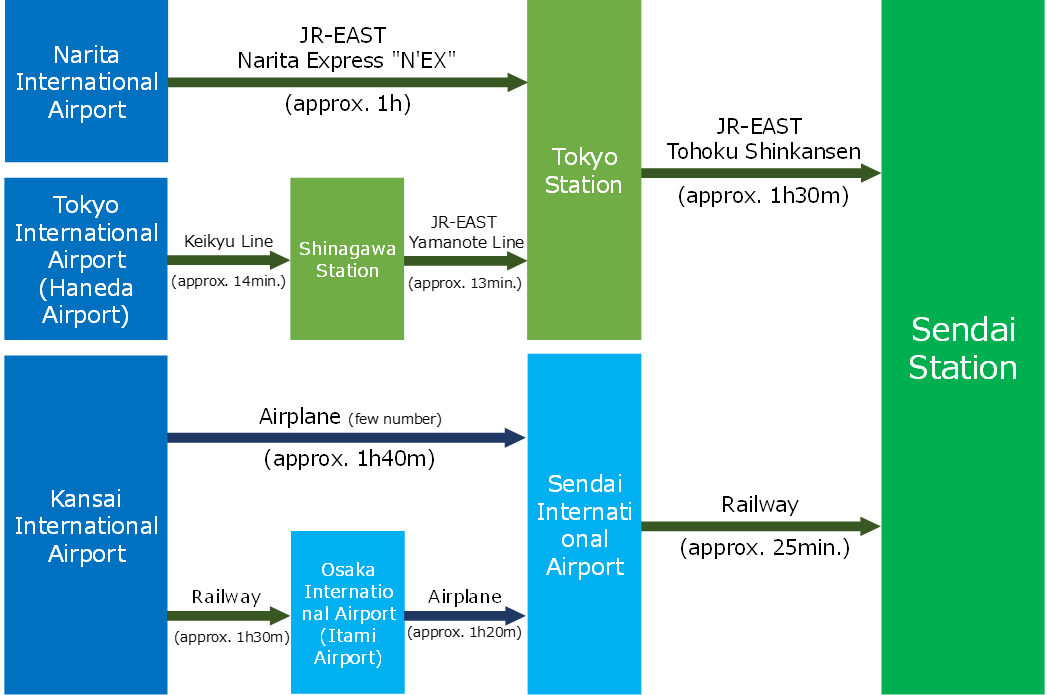 From Sendai station to Sendai International Center
30 min. walk from Sendai Station to Sendai International Center.
7 min. by Taxi from Sendai Station to Sendai International Center.
Take the Tozai Subway Line from Sendai Station to International Center Station in 5 min.
1 min. walk from International Center Station on the Tozai Subway Line.


Note: Tozai Subway Line
The Tozai Line and the Nanboku Line run through Sendai Subway Station, so please be sure not to make a mistake. The Tozai Line is marked by the symbol "T" in a light blue circle. Take the train bound for Yagiyama Zoological Park Station and get off at the third stop, International Center Station. It takes 5 min.

If you need more detailed information, please refer to the website address below:
Sendai International Center
http://www.aobayama.jp/english/access/
JR-EAST
https://www.jreast.co.jp/e/
There are three types of Tohoku Shinkansen (JR-EAST) from Tokyo to Sendai: Hayabusa, Komachi, and Yamabiko.
Hayabusa and Komachi are faster, but all seats are reserved, so we recommend that you reserve your seats in advance.
The Sendai International Center has a conference building and an exhibition building. Please note that the CIGRE 2023 Sendai Colloquium will be held in the conference building.